Leighty's Kitchen & Bath Center
Professional Kitchen and Bath Renovations and Design Services
Showroom In Newry, PA
High-Quality Products For Your Remodel
At Leighty's Kitchen & Bath Center, we've hand-selected some of the most well-known and well-respected brands in the home remodeling industry for our showroom, including those offered by Omega Cabinets, Wilsonart, Holland Barstool, Gerber, and Blanco. You'll find a wide variety of products on display in our showroom with a variety of moderately priced and high-end options. We have something for everyone!
Cabinetry
Style Meets Functionality
One of the biggest trends currently encountered in kitchen design is focusing on functionality while maintaining style. With high-end kitchen cabinets, the look and usefulness of your kitchen will both improve with a great design! Leighty's Kitchen & Bath Center works with name-brand companies such as Omega Cabinets, Plato Cabinetry, Medallion Cabinets, Koch Cabinets, Waypoint Cabinets, and Wynnbrooke Cabinetry to bring you many of today's standard and innovative features into your revamped space.
The Perfect Cabinets for Your Kitchen
As our expert designers work with you to develop your new home or remodeling plans, choosing kitchen cabinets is a large part of the process. We will discuss how you imagine the style and functionality of your kitchen. From these elements, we will be able to make recommendations and help you search for the perfect cabinetry for your new space!
Our Quality Cabinet Brands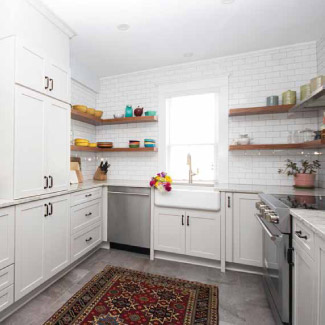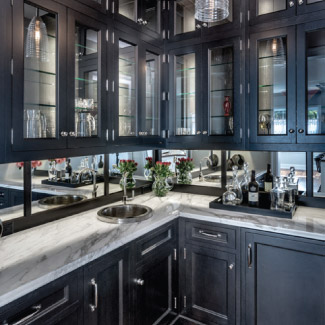 Leighty's Kitchen & Bath Center works exclusively with quality cabinet manufacturers that we trust to give you the exact cabinetry you want. We've developed strong relationships with industry-top brands, such as:
Omega Cabinets
Plato Cabinetry
Medallion Cabinets
Koch Cabinets
Waypoint Cabinets
Wynnbrooke Cabinetry
Explore Cabinet Features and Options In Our Showroom
Our showroom provides a wide variety of cabinetry for you to start envisioning which style and color you would want to be placed in your kitchen. Make an appointment to come into our showroom today!
Guide to Selecting the Perfect Cabinets
Cabinetry has many elements that can make options confusing. Use this free downloadable and printable guide to help you make the best decision for your new kitchen!
Countertops
Bold Kitchen Countertops Bring Life to Your Kitchen
A beautiful kitchen countertop brings life to your space. It ties all of your thoughtful decisions on design, line, color, pattern, texture, and even light together. The expert designers at Leighty's Kitchen & Bath Center use these elements to showcase and embrace artistic potential in every project, including your kitchen countertops.
Our Fine Countertop Manufacturers
Our expert designers at Leighty's Kitchen and Bath make sure your kitchen counters remain functional while also providing a bold statement every day. Apart from functionality, durability is also a conversation our designers will have with clients as they select their dream countertop. We have a variety of styles in durable materials provided by local manufacturers to bring your design dreams to life.
Considering Usage & Layout In Countertop Design
As we move into designing around a countertop, we will discuss layout and where you see your countertops being placed: Are you imagining a large island with plenty of counter space to host guests? Or do you plan on having a smaller breakfast bar for your family to eat and work at? Deciding the intended usage and placement will further help in finding you the right countertops for your new space.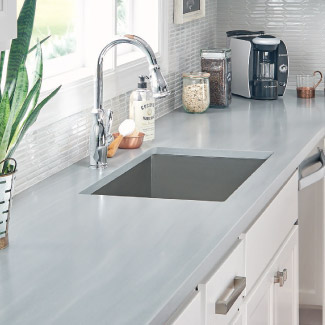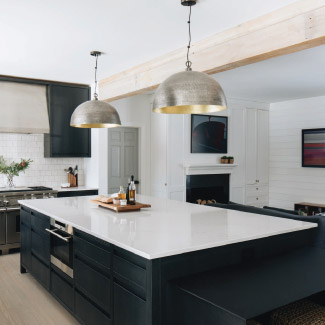 Guide to Selecting the Perfect Countertops
Need help choosing the best countertops? Not sure where to begin?
Download this free guide with steps on how to choose the right countertops for your space!
Bar Stools
Bar Stools
Adding a kitchen island or breakfast bar during a kitchen remodel can be one easy way to add additional seating for ultimate functionality. At Leighty's Kitchen & Bath Center, we carry barstools from manufacturers such as Holland Barstool.
Before You Decide
There are some things to consider before choosing which bar stools will fit your space: How many seats are you seeking? How high is the bar? What type of stools would fit your envisioned kitchen style? Once you have determined the style of your kitchen island, you can then begin planning for a bar space and the stools that will offer the most appropriate fit.
View Your Options In Our Showroom
At Leighty's Kitchen & Bath Center, we can help you decide which bar stools will work best for your kitchen's new layout while reflecting your own personal style. Our showroom boasts a wide selection of bar stools from manufacturers such as Holland Barstool. We are here to help you to choose the perfect stools for your new kitchen. Visit us today!
Decorative Lighting & Shading
The right lighting in any room can truly transform the look and feel of the atmosphere. Light is a powerful thing that can sometimes be an afterthought after selecting some of the bigger furnished pieces of your new space. Choosing the correct lighting is important since lighting can affect your mood. Certain lighting can lift the mood, inspire productivity, and motivate.
Lighting Considerations for Your Kitchen
Most of the time, you need more than one source of light in a room. Every space in your home should have a mix of lighting, including overhead, accent, and task lighting. Most rooms feature a decorative ceiling fixture near the center of the room. Adding more layers of light, in addition to overhead lighting, can add definite contrast and enhance the ambiance of your new space; however, kitchen lighting should be bright rather than focusing on a calming ambiance. Consider recessed lighting along the edge of the ceiling, as well as under-cabinet lighting. This makes for a bright kitchen space that's functional when preparing a meal, hosting guests, and more.
Get the Perfect Lighting for Your Kitchen and Bath
At Leighty's Kitchen & Bath Center, our expert designers will be able to advise you on accent lighting for your new space to give you the perfect atmosphere. Whether it's perfecting a soft ambiance in your new bathroom or creating a bright space in your kitchen, we will be able to provide you with lighting fixtures to create your dream space. Call us today and schedule an appointment with one of our designers!
Guide to Choosing Kitchen Lighting
Check out this free downloadable guide on how to light up your kitchen!